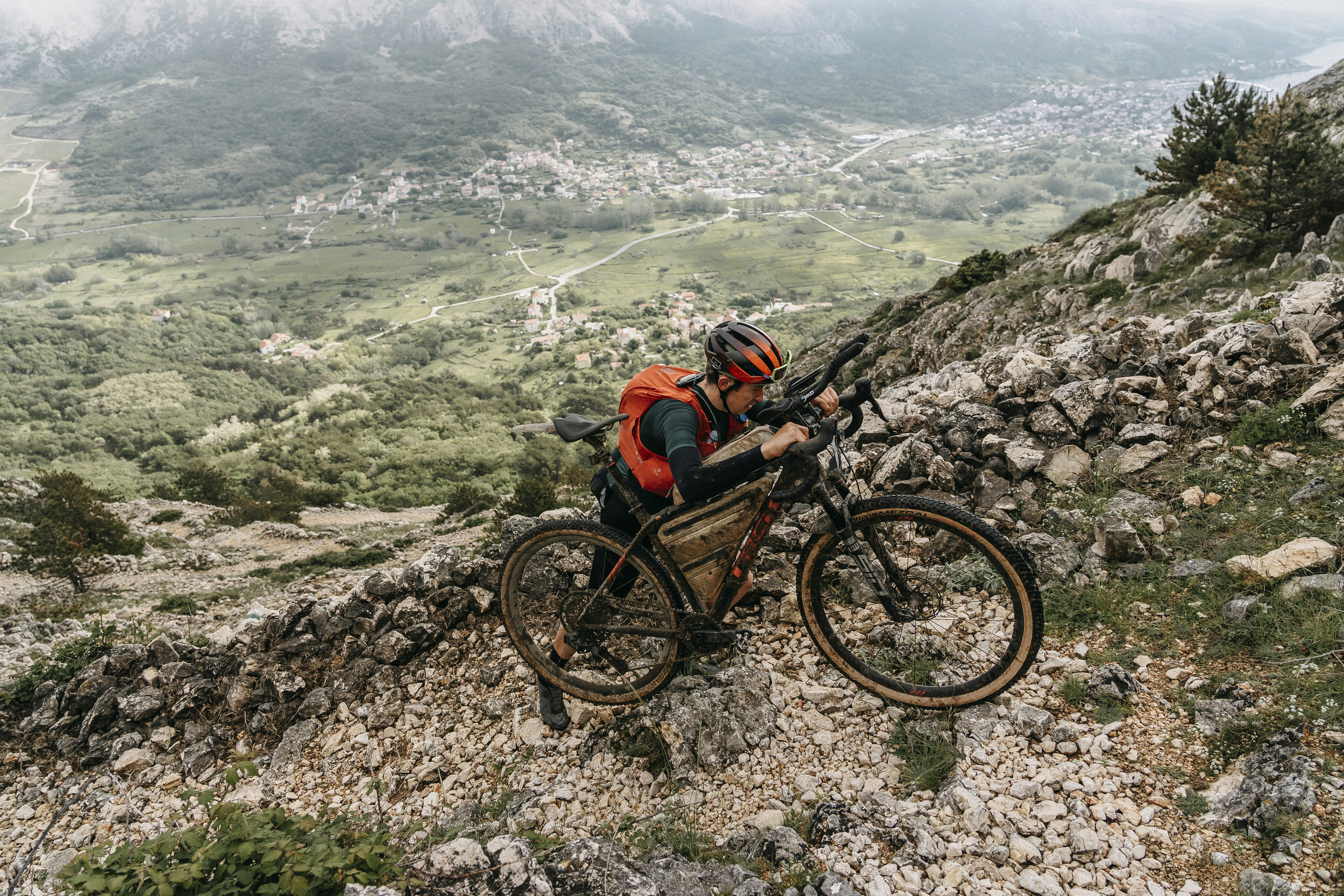 Photos by Nils Laengner, Kitty Dennis and Enrico Masiero
One of the original bikepacking races, the Tour Divide broadly follows the Great Divide Mountain Bike Route, the most recognised off-road cycling route in the United States. The race has developed into one of the most prestigious events in the ultra-distance calendar, whilst retaining a very low profile. Unlike a lot of races that have emerged over the past decade, there are no entry fees, no registration, no sponsorship and no prizes for winning.
Offering an extreme test of endurance and self-reliance, the race is heroic to many, but it's also steeped in danger. During last year's race, cyclists had to be airlifted out after trying to push their bikes through hours of wet snow, right through to opposite conditions in New Mexico, the final state on the route, where wildfires raged across hundreds of thousands of acres.
Ahead of the Tour Divide that starts this Friday, we spoke to Albion ambassador, Justinas Leveika, as he prepares to set off and race the 2,745 miles off-road mountain biking route from Banff in Canada down the length of the Rocky Mountains to the US border with Mexico. 
Justinas lives in Norway. Originally from Lithuania, he works full time and rides bikes part time. Quite how he fits it in, no one is sure. This year he's already ridden six races all of which he has either won or podiumed at.

As a qualified nurse, he now heads up the nursing department in Tolga, where he lives in Norway. When we first met the conversation touched on racing through the night and different race strategies. Justinas' approach was refreshing, he's used to working night shifts, so riding his bike at night it's something he enjoys, rather than endures.

As well as racing regularly and his day job, he's the creator of the Bright Midnight route, an unsupported bikepacking race through 1000km of Norwegian landscapes under the watch of the midnight sun which starts in his hometown of Tolga. Justinas trains for long distances in the area so he thought about how he could connect all the incredible areas that he frequently rides through for his own ultra distance race.
We spoke to Justinas just before he set off for Canada.
What got you into bikepacking?
The short answer would be Covid. I had looked at races before, but during Covid I got to do some bikepacking trips around Norway and fell in love with it. After those trips I wanted to see how far I could ride in 24 hours, and when I clocked up 700km, the next natural step was to do a race. That was Trans Pyrenees in 2021. 
What have you raced so far this year in the build up to Tour Divide?
This year I have ridden consistently, racing every month.
In January I rode the Fat Viking where I finished in second place (a fat biking race in Norway).
In February, I headed back to Morocco to ride the Atlas Mountain Race, where I finished in second place.
In March, I won the the Gran Guanche Audax.
In April, I won the Dales Divide in the UK, where I broke the course record. I also raced Dead Ends and Dolci in Switzerland, where I finished second.
Then last month in May I raced Seven Serpents (Ljubljana to Trieste through the Croatian islands) which I won.
 Why do you do it, and what do you love about this sport?
I love the way it allows you to see the world, the countries, meeting like minded people, living the life. It helps in everyday life too, changing your perspective. You learn to focus on a solution instead of a problem.
In general, everyday life problems don't seem that scary anymore. 
I love to test my limits. To see how far and how fast I can ride. 
How did the idea for riding the Tour Divide come around? What attracted you to it?
It was one of the first races I heard about after I finished Trans Pyrenees. I looked at it, but at that time I just wasn't ready for it. I knew that I needed to grow up for this one, as it's the origin of all cycling  ultras. 
Aim for the race?
Hmmm... I would be lying if I said that I didn't want to win it... but to finish it is my number 1 priority. To finish fast is a bonus.
What are you looking forward to?
Riding my bike! The preparation for this was so stressful - the actual work, the bike setup. I just want to ride my bike now, eat, sleep a bit and repeat! 
Any concerns?
Well it will be the longest ride I have ever done, so that is a bit of grey area for me. 
How do you pack for an event like the Tour Divide?
I have done a few ultras where temperatures were very low, so I know what to pack to survive the worst weather. Kit wise it wasn't difficult. In the last race I did, Seven Serpents, it rained for first 24 hours. Now I am certain what rain clothes to pack! The Zoa rain shell and rain trousers withstood the test with flying colours.
What is your approach for clothing and equipment and a race usually? How does Tour Divide differ?
Usually I am a minimalist. Just the essentials and a inflatable pillow 
For a race this long though, I can't go that light. Whilst I could, I would would need to trust and rely on luck. So I am packing a bit heavier, just to be sure. 
What weather will you experience?
Everything from below zero to desert heat. The highest summit is 3600m above sea level. If I get there at night I'm pretty sure it will be cold. There will probably be some snow on the track but when we get to New Mexico, the heat will greet us.
Favourite/essential bits of kit?
The Ultralight Insulated Jacket will probably be the MVP, or MUI (most used item)  alongside the ABR1 pocket bibs with the rear pocket and signature whoppers stored in the back. I will have the Zoa lightweight insulated jacket for sleeping and riding in freezing temperatures at night too.
The race starts on Friday 9th June.